For this post, I'm dropping the 'and' structure, because the current woman in genre has done so many things and influenced me in so many ways – inside and outside genre – I can't restrict her to just one. Adele Wearing is a jack of all trades and she deserves Sunday as her day on the blog (my favorite day of the week – a day of transition). If you want to meet a powerhouse involved in the genre, then you can't ignore her contribution.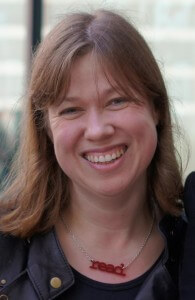 She supports authors, has experience with reviewing fiction, has organized Alt Fiction (a great UK convention) and now operates as publisher with her excellent Fox Spirit small press. Adele has done everything there is to do in genre and it's commendable to see a person give so much to what they love. That alone should serve as an example as to how one should live their life – be devoted to what you love. It pays off – big times.
Our fabulous and outrageous friendship started back in my reviewing days when I was a bright, young thing with little to no shame and a low-cut sequin dress… oh wait, this is my slash fiction I'm quoting. Anyway, yes, it all started when I thought I'd be the biggest reviewer the world had seen and looked for opportunities to show just how good I was at dissecting novels (note to the general public: I wasn't. Otherwise, I'd be Egbert of the literary scene).
Adele, then, ran her Un:Bound genre review blog (now an online magazine) and she needed help blog-sitting her darling for three days. I volunteered. Usurping other blogs for my benefit seemed the right move for an aspiring conqueror. What I got out of the deal was a link to my blog and a brilliant friend, because as it turned out, Adele Wearing is a hoot and a half.
Apart from being well-read, Adele Wearing has as many ways to make you laugh as a hired hand has to finish off a target. We had lots of laughs together. We gossiped and gushed over all the hot books due to come out soon (I admit, I have thing about those limited edition hardcovers with a set of gilded letters) and kept each other motivated about what we did. Adele certainly made my run as a reviewer a very happy time indeed – getting to type 'dahlink' every so often does put a great smile on my face.
Keeping a person suffering from depression happy. It's one of the greatest gifts you can give, so I do thank Adele for my happy moments and comparing one of my shorts to Poe.
Let's get serious though and actually celebrate Adele for what she has done in genre.
Wearing has been on the organizational team behind Alt Fiction, a much beloved convention in the UK, which certainly has blossomed (from what I hear; my convention going has been really restricted) and I've seen how much hard work she's put in to make the convention happen. I still hope I can visit sometimes and see her in action.
However, what's more impressive is her current project running Fox Spirit. Small presses have been on the rise recently and I'm fairly certainly she will hang on, grow and bring more fantastic authors into publication. Her releases are certainly different compared to what big presses have been putting out and I'm glad all anthology projects to this moment have been spearheaded by women. This makes Fox Spirit one of the rarer publishers to have a predominantly female crew behind it and they're doing just fine. Genre, take a note please.
Dear Adele, here's to our eventual conquering of the world. Cheers!