I thought whether or not to create a Definitive Mixtape for 2014, but I had only four posts so I decided to forge on without a compilation of the greatest hits and continue on with the series as is. The stories featured here have been published in previous years as I'm still catching up with my backlog, but they're all highly enjoyable.
I'm wondering whether or not to adopt a themed approach and group the stories I read based on a central idea. The problem with this approach is that basically I will be reading for mini-proto-anthologies and while that is exciting to the editor at the back of my head is excited, it will take more time and cut off the stories that are hard to classify. Maybe in the future, I'll do a one-off in a broad genre or subject.
These were all the editorial thoughts I have for this post. Here are your stories in random order.
"The Latest Fashion" by Karin Terebessy: Fashion is an interest, which I don't pay enough attention to, so when a story comes with a very tongue-in-cheek approach that pokes fun at the fashion industry and the insane trends that make it to the mainstream, I can't resist it. Since this piece is flash, I'll hold onto the punchline. Let's just say that this story is very, very wrong.
"The Lists" by Ryan O'Neill: What I appreciate in my reading is bold use of post-modernism narrative structures and O'Neill shows his devotion to the idea of using lists to tell a simple story of love lost. The writing is sparse and the degree of cluing readers in as to what exactly occurred is light, but gradually growing. What's impressive is the execution of the technique as the heart of the story is universal and ubiquitous in the current cultural landscape.
"When Gods and Vampires Roamed Miami" by Kendare Blake: The goddess Athena roams 90s Miami in her most alternative human disguise, but her nighttime lifestyle attracts a Goth runaway who mistakes her a vampire. This story doesn't have a happy ending and Blake is a skilled writer when it comes to characters, because she plays really well with emotions and dialogue to flesh out her characters.
"Prayers of Forges and Furnaces" by Aliette de Bodard: Aztec steampunk with a god-machine and survivor refugees from the old Aztec pantheon is something I didn't know I needed in my life. But here it is in its most exquisite and beautiful form courtesy of de Bodard's rich imagination. I found the writing to be irresistible and the worldbuilding to be something else altogether.
"Mine-Wife" by Karin Tidbeck: Told over letters, book excerpts and news article clippings, this story unveils the grim details surrounding a mass disappearance in Sweden complete with isolated parishes, cult leaders building automatons and eerie guardians of mines called the mine wives. This is a slow and quiet story, which builds up almost imperceptibly as a light snow fall. Each detail is a sinister revelation with the final letter leaving a very claustrophobic open ending.
BOOK PLUG: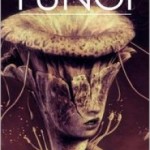 You should really buy "Fungi" edited by Orrin Grey & Silvia Moreno Garcia. It's among the strongest anthologies I've read in awhile. It had only two or three weak stories, which is a rare sight when it comes to these types of themed publications. You will be really impressed with the content inside, so go buy it.