Mother dearest,
I can't thank you enough for giving us the keys to grandmother's house. After our home got swallowed whole into the ground, it's been hard to get back on our feet. Just try to explain to any insurance company how a single house in an entire cul-de-sac managed to sink into non-existence. I mean, I don't even know whether I still need to pay mortgage.
My neighbor, Polly St. James, says government scientists have overtaken what little remains of our backyard and are trying their hardest to understand what happened. What do you think is the chance they'd be interested in having a little chat with my insurance agent and help out? Don't answer that.
Anyway, I digress. The house is wonderful. More space than we'll ever need, which makes my task of finding great grandpapa's remains difficult. I never imagined there'd be so many places great grandmamma could hide his bones. You really should explain why she did so in the first place and why in God's good name you need them now after all these years. I don't expect a serious reason, but it will give me more in sense of determination.
Also, you could've mentioned the house is haunted. Perhaps I should've known this, but it would've made a world of difference those first few weeks of settling in. I've to say the screams at 3am are a bother, but I've found that good rum and a pair of ear plugs can fix just about anything. Plus, you know Isaac snores like a beast. (To be honest, some nights I prefer the screams). But what bugs me most is that I don't know who got murdered. Did you ever learn growing up here? And on the subject of the bones, maybe you can ask around some of our relatives. You have twelve brothers and sisters for God's sake. I imagine they would know something more about potential hiding places.
My search has been largely unsuccessful. All I have to show for a month is one vertebra. I'm just so tired and distracted. The man in the mirror is the biggest obstacle. He stares at me with disapproval whenever I decide to search and I just can't get myself to do it. I can barely focus when I have to see exposed flesh all the time. Ghastly. The kids love it though. Anjelica swears she's into pathology now.
I can't say I approve, but then again it's better than her idea to blog for a living. Who makes money writing online? At least car crashes and murders and whatnot happen every other day. But seeing that man is unsavory, all that blood on his clothes. You know I have a terrible aversion to the color red.
Speaking of blood, do you know how grandmother dealt with the blood outpour in the bathroom? Keeping clean towels has grown increasingly difficult and no one at the laundry service wants to go anywhere near them. The only good thing is that the blood has led me to the vertebra that's been sealed behind the bathroom tiles. You can expect that in a parcel in the next few days, maybe even before this letter arrives.
But if I have to soak another batch of towels in cold water, I'll throw a fit and probably take out my frustration on Isaac. He does not listen to me! See a doctor for the snoring, I beg. Is that too much to ask? Look, I know father was stabbed into an early grave, but did he ever give you that much grief?
That reminds me. I keep waking up with kitchen knives in my hands every morning. Last Monday it was a saw – and I didn't even know we had one to begin with. Maybe the house is trying to stir me in the right direction. Maybe I should saw through the walls to find more bones, but I'm afraid that will have to wait until I check every room, just to be sure.
Now, before you scold me, I am going to write about your favorite grandson – Joseph. He is really coming out of his shell these days. We feared he'd get worse since the house is so far away from everything, but he made fast friends with the boys buried in the cellar. Ghosts were just what he needed in terms of good influence. Yesterday he found an unmarked grave behind the trees near the lake. Isaac was so proud, because Joseph dug out the body all by himself. Personally, I was hoping for great grandpapa's skull or hips, but I'm not complaining (too much). We have the whole thing on tape and you won't see a happier 8 year-old.
We did our best to make this a special moment and even invited a priest – you know, reach out to the community. Unfortunately, it didn't work out quite as I had planned. You see, the body ate the priest while he was trying to give it a Christian burial. Maybe I made a mistake in presuming it was Catholic. The body could have been Presbyterian for all we know, or even agnostic. Can you imagine? Long story short, the body shambled away, and that was one family outing ruined.
I hope you're doing well and that the police have dropped those ridiculous charges against you. It's preposterous to assume anyone would gain much from killing the neighbors' newborn in March. I mean, harvest time is not for a season!
Love and kisses,
Your faithful daughter
Emmanuelle
—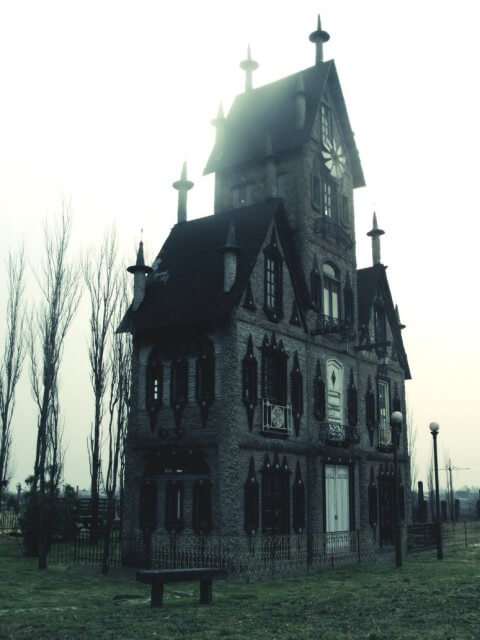 This is something little that I wrote in 2014 as an exercise. I've always been interested in old houses, which may or not be possessed by unsightly forces. This love stretches as far back as my childhood seeing abandoned homes in small villages during the summer drives from my parents' home to visit my grandmother's house where I'd be in a very rural heaven. After I started writing, I imagined more about the secret lives of abandoned homes and the ghosts of memories that might lurk. I'm also a fan of The Addams' Family and The Munsters and I've always wanted to live in a house that resembles theirs along with the crazy shenanigans. This story is meant to bridge all these interests into a short piece that makes for a light chuckle.