I discovered Carrie Cuinn as an editor first and a writer later. Both instances concern short story as a form and my deep appreciation to Cuinn's talent. My introduction came with a copy sent to me as part of my gig as a reviewer for the short-lived Rise Reviews project aimed at promoting small presses and their work. Ultimately, the project failed, but what I received was one of the best anthologies in genre I've read – "Cthuhlurotica".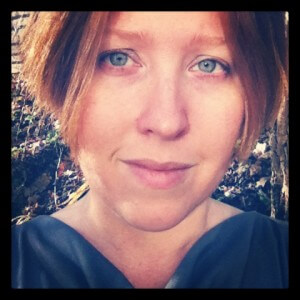 Erotica doesn't boast a good reputation as a genre – basically it's as low-brow as it can go and I know people who think other people in love with steamy tales to be of lesser intellect. I admit to be an occasional fan, but mostly because I like the stimulation (isn't that the purpose after all?). Cuinn, however, demonstrates how sex and sensuality can become a powerful tool to subvert a sub-genre iconic for its sexless nature and gender inequality. Lovecraftian women didn't exist as leading ladies. They barely showed in the picture and when they did reflected Lovecraft's ideas as frail, weak things – ugly as well.
"Cthuhlurotica" doesn't only offer tastefully written erotica (brilliant sex and good plot; sign me up for life membership), but also digs deeper into Lovecraftian horror and exposes a new side to it where women also exist (thematic to this month, no?) and they are completely in charge of the situation. I can't say the genre has been revamped, but a new conversation has begun and I hope continues with the second installment of "Cthuhlurotica" which is in the works.
I know myself enough to judge a creator by one work and Cuinn instantly became a favorite of mine. I've read one story, which I've commissioned for Tales to Terrify podcast during my one year tenure on the show since its inception, and I can tell she's a storyteller. She loves fiction and understands it, which is why her anthology projects are of great interest to me.
The second anthology edited by Carrie Cuinn along with co-editor K.V. Taylor is "Fish" and it solidified my general fandom towards Cuinn and her Dagan Books. I've lost the original review of "Cthuhlurotica", but I have kept my review of "Fish":
"Fish is effortless, dream-like, diverse and exquisite, which certainly holds true as I consider the anthology to be a revelation, because it's just fish. No restrictions upon genre, no neatly defined prompt to cater to specific tastes. It's just you and the stories and the fish. Simple and yet so risky. As you read Fish, you step further into a dark and undisturbed ocean where you see reflected light dance across scales and experience ink-black beauty with sharp teeth."
It's another highlight for me as a reader and a writer and an editor. What I'm left as a sensation from both projects is love and deep care for the work put in. It's easy to feel these books mean a lot more than clever ideas put to paper to sell on a presumption. It's in the internal illustration, the cover art, the foreword and the story alignment. Cuinn lives for genre and Dagan Books is a direct reflection of her passion and love.
Stop by her blog and read her sincerity when she talks about her life as an editor and writer. She should be your inspiration and role model to keep doing whatever it is you want to do and do it as if you're the best there is.