I adore the Yeah Yeah Yeah's. Even though I can't say I love everything they put out, there's magic in what they do and Karen O can sing anyone into a trance. For this Sunday's musical offering, I have selected a newer single "Sacrilege", which has one of the most dramatic and cinematic video experiences ever.
"Sacrilege" has garnered favorable reviews for its urgent sound, which reaches its crescendo with a blown-out gospel choir that consumes the listener in his entirety. An incredible song with an even more interesting video.
The script casts angelic, red-head model Lily Cole as a newlywed in a small town, who at the beginning of the video is tied to a pyre and lit on fire. It's a bizarre opening shot considering the viewer is a few seconds in and Karen O's voice starts off deceptively gloomy and calm; as calm as Karen O's voice can be – even at its softest, it brims with raw, kinetic energy.
You keep watching and that's the fun part as the video shows you the events that have led to Lily Cole's eventual death at the makeshift stake. The decision to reverse the chronological order of the scenes creates a delirious experience for the viewer, who is a little disoriented at the beginning and struggles to piece the story together.
Another interesting effect is that while the song reaches culmination with Super Saiyan gospel shouts, the video narrative returns to its point of origin – Cole's wedding. You're treated to a small town affair with stark white walls and a bride that embodies purity, while your ears are assaulted with multiple voices screaming sacrilege. It's as if heaven decries what's about to happen to Cole's character.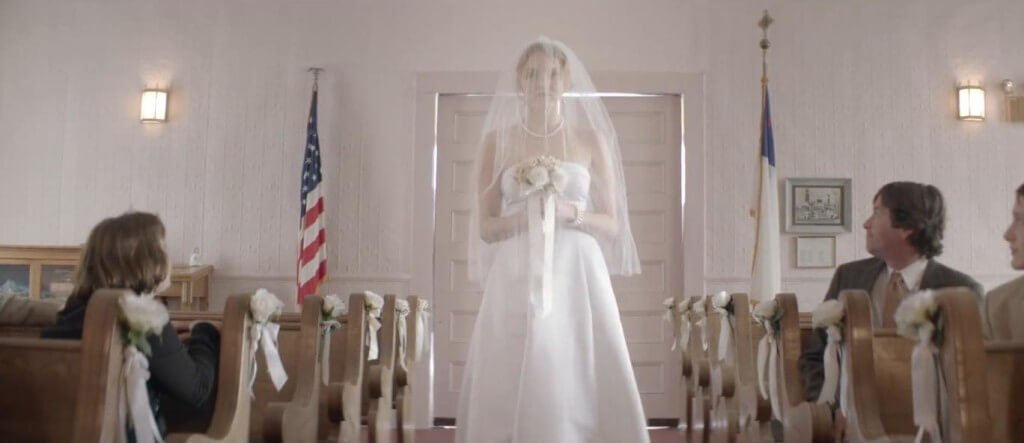 The sexual imagery in the video is interesting to note, because the editing blurs the line of what might be reality and fantasy. The fractured narrative allows two interpretations – a literal one where Cole does sleep with everybody and a metaphorical one where these acts are mere fantasies entertained by the upstanding citizens of this town.
My personal interpretation lies with the metaphorical one. Cole had a single transgression – with the priest. Perhaps this is THE sacrilege as the one who discovers them in their motel room mouths the word 'sacrilege'. This enrages the community. Her punishment is dealt not because she has transgressed, but because she chose someone other than all others who desire her body, including a woman. It's this rejection that binds them together to commit their crime.
What remains to be asked is this.
Where the hell is the husband in this?
He pops up for a second at the end of the video, which is the beginning of the story, and then never to be seen again.