I have a book buying habit, which I can't sustain. Perhaps if I marry a guy in the publishing industry, there'd be a high chance I'd get all the books that I want, but that's not happening. The deal I have made with myself is that I have to get through at least six books of my own before I even consider buying a new tome. No matter what.
So what I'm left with is to salivate over books I desperately want. Hence why I'll return to a book blogger favourite: Waiting & Wishing on Wednesday, where I talk about the books I want and hope I find a handsome gentleman who will donate (though ladies are also encouraged to donate). Kidding aside, this is a collection by Molly Tanzer that's been popping up my feed and I find it to be quite intriguing: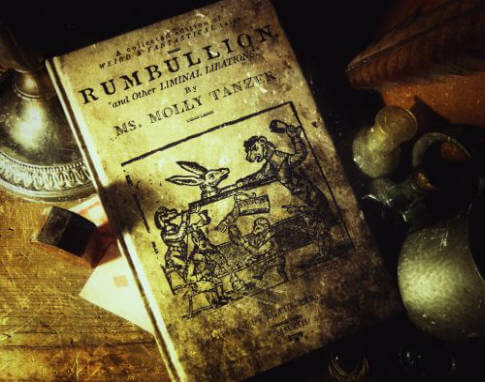 MOLLY TANZER, author of the Wonderland Book and British Fantasy Society Best Newcomer Nominated A Pretty Mouth presents a new collection of weird and fantastical tales:

R U M B U L L I O N, A N D O T H E R L I M I N A L L I B A T I O N S

incorporating a new novella—a disquieting tale of 18th Century decadence, charlatanism, supernatural ritual, and violent, bloody murder, told in the epistolary style—along with a number of previously uncollected and critically acclaimed short stories.

Each piece is furthermore presented with a corresponding imbibation from Molly's distinctive repertoire, to be concocted by the reader with the hope that his or her enjoyment of the story will be in some small way enhanced—and that Bacchus guide them on.
The full contents are as follows:

Introduction: A Consuming Desire

Rumbullion: An Apostrophe
Presented with Planter's Punch

"In Sheep's Clothing"
Presented with Sheep Dip

"How John Wilmot Contracted Syphilis"
Presented with The Arms of Venus

"The Poison-Well"
Presented with Choke Royal

"Herbert West in Love"
Presented with Revivification

"Tubby McMungus, Fat from Fungus"
Presented with The Shabby Tabby

"Go, Go, Go, said the Byakhee"
Presented with Mother's Milk

The book will be a 256 page lithographically printed, sewn hardback with colour endpapers, limited to 250 copies.
Given the limited edition nature of this book, chances are I will most likely not get a chance to read this collection in this form. Perhaps in the future the publisher will release an ebook. SIGH! Nevertheless, this is a most beautiful book.