Writers are notorious for giving advice on writing. Doesn't take long on the Internet to find a million or so articles on how write better, faster and stronger prose. Because it's inescapable, writers often are assaulted by opinions and ironclad rules on writing, which often contradict each other. In the end, you're a bit confused and have no idea who to listen.
What I've learned about the craft (writing is magic!) is that writing is one personal experience and no two writers are the same. Unless they're clones. In which case I demand access to their cloning facility.
This is why I've taken to the streets to talk to writers about advice. What worked and what did not and why. The idea is not so much about to hash out new writing advice, but to foster more of a dialogue about a writer's relationship with advice. My dear friend Juliette Wade has been so generous with her time to come and speak about her experience with writing advice.
—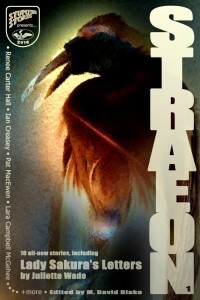 Which is the one piece of go-to, often-repeated writing advice that turned out to hinder your writing? And can you share an example of how/why it didn't work in a particular project.
I can think of two.
The first one is "eliminate filter words," a point of view technique. Filter words are words which describe the senses of the protagonist – "He saw," "She heard," etc. When an author uses them, it tends to create a sense that the reader is in a location external to the character. Often, writers are advised to take out these words and keep only the direct description of what is being perceived.
With filter: She heard the thief come in the door.
Without filter: The thief came in the door.
While there is no distancing mention of the protagonist's sensations here, when you eliminate the filter, the protagonist disappears altogether. The narrative can be left with a sense of disconnection from point of view. My own approach to solving the filter problem is one that uses character judgement to maintain the connection between the reader and the point of view character.
With judgement: That sound meant the thief was coming in the door.
Basically, the idea is that only the protagonist can judge what a sound means, and this therefore helps put us closer into the character's head.
The other one is "Show, don't tell." My rule of thumb for this one is if you don't know how it works already, you can't fix it; if you understand what it really means, you don't have to, because you are already doing it. I wrote a long article about the advice some years ago, after conducting an opinion poll among a number of writers, and it has lots of nuance. What people don't typically do, though, is admit that you can't – literally can't – show everything. And neither should you. Things that are really important and need extra impact should be shown. Things that are minor can, and often should, be told. Here's an example from my Varin world. Varin has seven castes, and members of each one are required by law to wear a mark of some variety, specifying their membership. The undercaste wears coal-gray hoods. I could spend a lot of time demonstrating that every person in this group has a hood, or I could just tell people that by calling it a castemark hood, and having people mention in context that everyone has to have one. That frees up words to do other more important things, such as make sure that readers can feel sufficient fear for servants.
Here's what I mean: people who hear the words "servant caste" are likely to think of them as subordinate, and automatically to identify with the position of a master. I can tell you that the undercaste is afraid of servants, but it doesn't have the impact that it would if I showed you why. I created a whole arc at the start of my current novel in progress, first to show that undercaste folk think that talking to a member of the servant caste always leads to bad things, and second to demonstrate what kinds of bad things can come from that kind of interaction (having your identification papers taken, being reported to the police). Using "show" in that situation is what allows a reader to see my tough undercaste fighter guy run away from a servant in terror, and not think he's just a fool for doing so.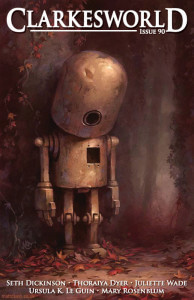 What is the one thing you wish someone had told you about writing, which you had to learn the hard way on your own? Again a personal experience would be nice.
I wish I'd been told how personal and important editor relationships can be. I came out of academia, and had already understood that at the Ph.D. level it was less about whether you were "good enough" as a person, and more about whether there was a particular person who wanted to work with you. I suppose I had a vague idea that it was similar in the fiction realm, but it took me a long time to realize that submissions, at least of short stories, don't really go off into nothingness and vanish. There are people out there, and what you're really looking for is a relationship with them. It makes the task both easier and harder, from my point of view. Harder, because there has to be a sort of personal connection made between you and an editor via the story – something that is hard to achieve and even harder to quantify. Easier, though, because the submissions that you send to a particular venue are actually building up a kind of "conversation" between you and the editors of that venue, even if they end in rejection.
This is something that is hard to see at first, because until you actually start getting close enough to receive rejections with feedback, the content of the conversation is invisible to you. It's still going on, however. My own personal experience with this was with the editor John Joseph Adams. I had quite a number of stories rejected by him when he was acting as slush editor for Fantasy & Science Fiction magazine – none of them with any feedback. He likely also saw my published works, but the point was that he later contacted me independently to encourage me to submit to Lightspeed magazine. I was shocked when that happened! However, in light of the idea that submissions (and possibly publications) form a sort of conversation, it made a lot more sense.
Writing advice aside, what are you currently writing/about to publish/promoting?
I'm promoting a couple of stories I have coming out this year. The first, "Lady Sakura's Letters," is about a Japanese tengu spirit who gets struck by lightning and trapped in the wood of his home tree. Not until he starts receiving mysterious letters does he realize his tree has been made into a box, and is now kept as a pillow by a lady of the Heian Imperial court. She has experienced terrible tragedy and is slowly losing her mind, but the two of them may be able to help each other in unexpected ways. It will appear in the issue of STRAEON.
The second, "Mind Locker," is a near-future story inspired by Google Glass and the changes the internet is making in our language. Hub Girl is twelve years old and lives in the slum of a major city. She keeps herself and her gang of friends fed by hacking the radio transponders of vending machines, and coordinating complex raids using the Arkive, an in-your-head internet which allows everyone to overlay customized information upon their reality. However, when the mysterious Locker begins kidnapping the children and disconnecting them from the internet, Hub Girl investigates, and finds a far bigger, more pervasive problem than even the police suspected. To appear in Analog.
—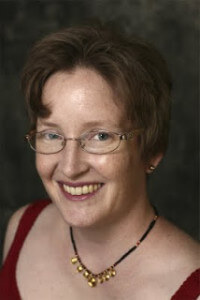 I started writing fiction – officially – while I was studying for my Ph.D., and by the time my degree was finished and my son was born, I was starting to realize I'd never be able to stop writing. At this point I work at home, caring for my son and daughter and writing in every spare moment I can find. I owe a great deal of my success to the unfailing support of my husband, who has made it possible for me to have spare moments, and also to travel to the Surrey International Writers' Conference, which was an enormous help to my career.
My first professional short story, "Let the Word Take Me," appeared in Analog Magazine in the July/August 2008 issue. Shortly thereafter I started this blog (July 2008). My novelette, "Cold Words," appeared in Analog October 2009. "The Eminence's Match" has since appeared in the Eight Against Reality anthology (July 2010). A novelette entitled, "At Cross Purposes" led the Jan/Feb 2011 issue of Analog, with cover art by Bob Eggleton, and another, "The Liars," appeared on the cover of Analog's October 2012 issue with art by Michael Whelan. Since then, "Smoke and Feathers" has appeared in When the Hero Comes Home 2 from Dragon Moon Press.
NOW OUT, a story at Clarkesworld Magazine entitled "Suteta Mono de wa Nai" (Not Easily Thrown Away).