Today, we lost one of our own. One of the Greats in the field. I don't need to explain who Sir Terry Pratchett is – that's how loved and cherished he is. I can't bear talking about him in the past tense, because although he's no longer among the living, the love and laughter he's given to generations exert a power far stronger than the one any physical death can wield.
The first book I ever read by Pratchett was "Wyrd Sisters". I was thirteen and it was the year I was studying for high school admission exams. We didn't have money at the time and I chose to go hungry at school to save the little money I did get for lunch. It took weeks to save enough to buy the slim book, which beckoned from bookstore displays with its magical green cover.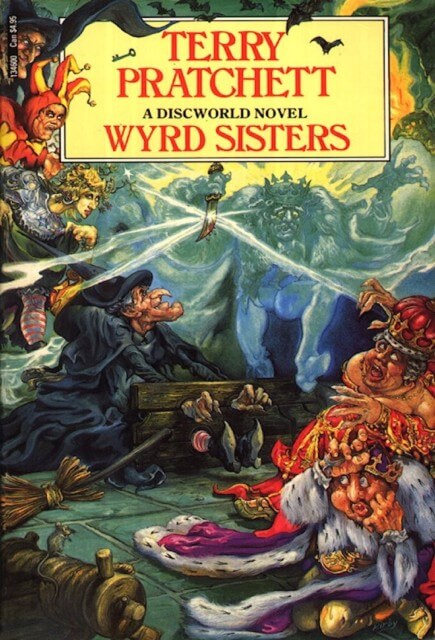 I remember I didn't use to laugh back then. It was a miserable period – I had realized just how poor my family was, how cemented we were in poverty and how utterly unsuited I was for my environment. I was not happy and moreover, I didn't believe I had the capacity to be happy.
The first time I broke down in laughter reading was reading "Wyrd Sisters". I'm not talking about a minor case of the chuckles. I rolled on the floor laughing before the Internet made it cool. Pratchett saved me in more ways than one. In the years to vome, "The Colour of Magic", "Witches Abroad", "Reaper Man", "Equal Rites", "Pyramids", "Lords and Ladies" and "Carpe Jugulum" followed suit and formed a small shelf at home.
After, I finished the book, I wanted to hold that power. I wanted to make people laugh and feel good about their life, because they encountered a book that softened the blows from the outside world. I wanted to create shelters. I wanted to write.
"Wyrd Sisters" is the spark that made me transition from a reader, albeit a novice one still in the phase of endless discovery, into a writer. The first novel I attempted to write (because even then I was more of a short story writer) was a retelling of "Wyrd Sisters" with Granny Weatherwax, Nanny Ogg and Magrat Garlick ill-concealed beneath new names and powers (because I didn't know how copyright back then either).
I penned the adventures of my elemental witches on colored notebook paper with handwriting so dense, packed and forcefully scribbled that the ballpoint pen tore at several places and the pages looked as if they'd survived a hurricane. Among everything horrible that happened that year, writing made me the happiest and it helped me pull through.
I wish I had those pages with me still. It would mean so much to my younger self to honor this great man with a thorough reread of a child's love letter to his hero.
Thank you, Sir Terry Pratchett, and may you rest in peace.