Pose: The Infinite Shelves, although a home for books, have little space for solitude. With the great mountain ostriches, paper serpents and countless Book Keepers, one can seldom find the necessary silence to concentrate. The Elbow Bookmark developed out of this necessity.
It's a simple pose. The Book Keeper assumes a sitting position with legs crossed and since the position is casual, individuals are allowed to cross their legs in a fashion most comfortable for them. Once the Book Keeper has fulfilled this step, he/she holds the desired book in one hand (similar to the Reading Monk) and grabs their neck so as to extend an elbow above their head.
Purpose: The Elbow Bookmark communicates when a Book Keeper has engaged with a good book and needs focus. This pose is a powerful non-verbal cue that alerts nearby Keepers to leave the individual in question undisturbed and maintain complete silence.
The position allows modifications which signal how important the reading actually is. A fully extended elbow aligned more or less along the Keeper's spine serves as a strict warning against any communication (emergencies being an exception). A more relaxed elbow, which forms a 90 degree angle with the Keeper's torso, means the Keeper is open to discuss pressing matters.
An elbow which points towards the ground signals that the Keeper is either cranky or near the end of their reading. Manners dictate to honor the individual's request for silence, but asking a question pertaining to a personal matter is not considered a severe transgression.
Point of origin: Unlike other poses, the Elbow Bookmark can be traced with great historical accuracy to Ml'mar Nurená Ai – a legendary Book Keeper who was also among the first to reach and colonize the Infinite Shelves.
A member of the Paludem race (named so by the first Roman Book Keepers), Ml'mar was a humanoid with exceptional hearing. His home world consists of swamps where most life forms developed soft filtered tissue instead of mouths to feed on the microscopic organisms living in the planet's water basins.
The saying goes this particular evolutionary development and superior hearing caused Ml'mar distress as he struggled to ask fellow Book Keepers to be quiet in his native soft whisper-like language. His experience led to introducing the Elbow Bookmark, which relied on the body to overcome language barriers and improve communication – a problematic, at the time, task.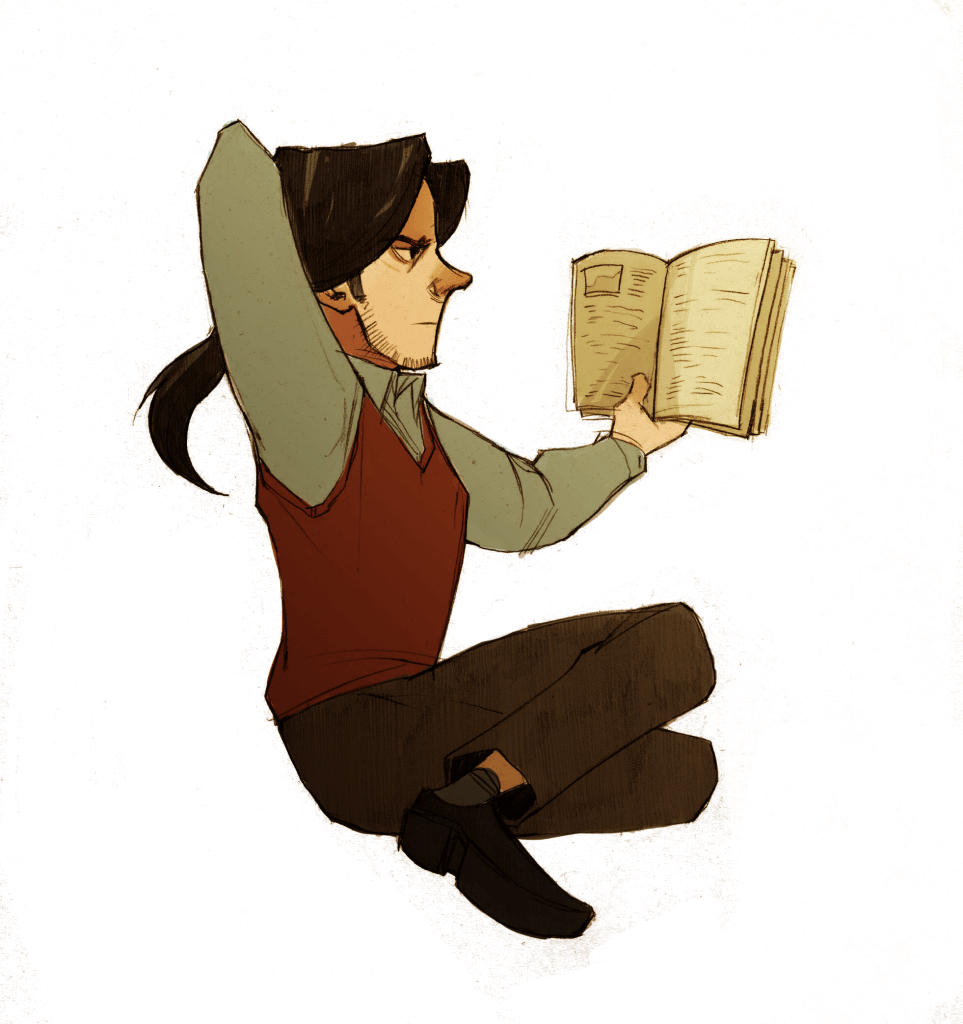 Pose in action:
Atticus has spent the last three hours memorizing the book for one of his regulars. He has taken all necessary precautions and found an isolated space in a storage building where the copies of the most easily found books are kept. The only light comes from a small roof-top window and hits his pages at the right angle. Four venerable hills of stacked books feed on the outside noises and unspoiled silence – the most Atticus has ever found in this settlement. He purposefully neglected to mention where he is and he's more than satisfied with the outcome.
The text itself makes for a fast read as it's written in Hyrolean – a simple language with no more than thirteen letters and a predisposition to group syllables in geometric formations to build construct words and sentences depending on dialect. A geometry of sounds and ideas that is quick to put to memory and even quicker to recall. His client doesn't necessarily need the knowledge of this volume, which discusses the agrarian secrets of Hyrolean people. What she as a telepath needs is the impression of the text in another's mind.
Soon his task will come to an end, but Atticus doesn't dare lower his elbow even though he's so hidden he can easily recline in any position he wants. The Reading Elbow remains his last line of defense should anyone feel the sudden inclination to drop by and discuss any new gossip from the southern regions. The rumor mill never sleeps and to Atticus it seems more mouths run wild with tales than eyes run through books. Book Keepers are meant to read, not theorize. Certainly not involve themselves with politics, though unfortunately many have now that the Infinite Shelves have opened up to so many worlds.
With a heavy sigh, Atticus stretches his back and vertebrae pop, releasing tension. He casts an eye and realizes he's been on the same page for so long the sweat from his thumb has wrinkled the thin parchment and the book now emits a biting smell. Whatever the Hyroleans made their paper from doesn't react well to humans.
"Hey, Atticus! You in here?" Lyra's overexcited voice makes him jump from his skin.
There goes his assignment. No one disregards rules and proper conduct quite like Lyra.
"Ah, there you are. I could feel the contempt from the entrance, so I knew you'd be here."
Nevertheless, he maintains his elbow high above his head and legs violently crossed just so she can see his intent and leave, but that doesn't stop her. Her head pops between the two stacks facing the entrance and she casually sits down in front of him.
"Yes, I know I'm interrupting, but we have to talk," she says and opens her bag to take out a beaten up folder with ruffled, stained pages inside. "I've just dropped off that one Restless Volume to my client and happened to hear about the troubles in the South. Now I know how you feel about the whole 'sticking our nose where it doesn't belong' thing, but things are bad. I got these from Chima and you know Chima does not trade with rumors. She verifies every single document before selling it."
Lyra waves the folder in front of Atticus, over the book he's desperately trying to read, and he finally exhales in defeat. His muscles hurt when he moves and all feeling has left his behind and legs, but he grabs the folder and goes through the basic outline.
"No." That's all he manages to say.
___
Thank you for reading "Kama Libris". If you enjoyed reading this post and want to keep up with new updates as they come every single Wednesday, please like us on Facebook, follow us on Tumblr or subscribe to The Alternative Typewriter (the subscription button is in the upper left corner).
If you liked the concept, please donate to the project and keep the creative team well-fed on ramen while they work on introducing more weird art in your life.