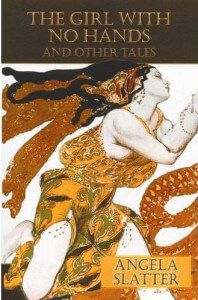 Title: "The Girl with No Hands & Other Tales"
Author: Angela Slatter
Genre: Fantasy / Fairy Tale / Lore
Pages: 210
Type: Collection
Stories: 16
—
What's Friday Story Dissection?
It's a weekly feature on the blog where I cast a more in-depth look into short stories, either in a collection or in an anthology. The idea is for these short stories to exist within the context of a loose narrative, determined by a theme, intent and story order intended by author or editor.
Anthologies have adopted detailed prompts to narrow down the wiggle space of submissions, thus creating a more focused narrative. I believe short story collections tell a larger story with individual stories feeding off and layering a top each other.
It's my intent to break down stories to their elements – a detailed, spoiler-full review with the mandatory quotes as a base to speak about the short story collection/anthology at length. This is a practice Bulgarian literature teachers would implement, loosely translated as "analytical literary essay", but on a much smaller scale. Plus, I intend to weave in personal digressions, so there's that, too.
—
Stories Dissected:
[1] "Bluebeard"
[2] "The Living Book"
[3] "The Jacaranda Wife"
[4] "Red Skein"
[5] "The Chrysanthemum Bride"
[6] "Frozen", "Words" and "The Dead Ones Don't Hurt You"
—
"The Hummingbird Heart" by Angela Slatter (7/16)
This Friday I break away from the ensemble reviews to the known one story per review model and this week I'm covering "The Hummingbird Heart" – a lovely, well-crafted fairy tale with its roots in Greek mythology. The central theme here is motherhood. The protagonist, Ismene, is a mother trying to bring back her daughter, Antiope, to life by enlisting the help of a mage, Philotas. It's a very barren description, which steals a lot of the magic from the story, but had to be said so that we can move forward.
Slatter uses danger, musk and sadness as ingredients for the ink she writes her stories with but in "The Hummingbird Heart" she forgoes the protagonist's sexuality as a main focus and goes for distilled heartache to tell this mother's desperate attempts to save her daughter's life. The role of the mother in Slatter's world is heavy.
From Lily's prostitute mother in "Bluebeard" who balances parenthood with carnality that to many is the antithesis of motherhood to Matilda's mother in "Red Skein" who loves and fears her daughter, the mother-daughter relationship in Slatter's world is cursed. In "The Jacaranda Wife" , Emily is a silent victim who abandons her child to return to her real home, while the nameless, unseen mother in "The Chrysanthemum Bride" is content to neglect one daughter to cultivate and then give away another to be killed for a marriage in the afterlife.
While Ismene and Antiope are a functional family as opposed to the family units above, death is what separates them, thus severing the link between mother and daughter. However, death's an obstacle Ismene is willing to overcome, which adds another dimension to the collection as the theme of the selfless mother has not yet been shown.
"Philotas said it would take "some time"; "some time," he said as I lay beside him, my body covered with sweat and the scent of him. It was part of the price for his sacred service, the return of my daughter. It was not unpleasant, and I would – have done – far more and worse to get my child back."
This is an incredibly important passage, perhaps the most important, as it encapsulates Ismene as a character. It distills her life's meaning, her resolve, her strength and her motivation. Love for her daughter has pushed her to challenge fate and restore what's been taken from her. This is a trope reserved for lovers. If you look at Greek mythology, you'll see Orpheus going down in hell to win back Eurydice from Hades himself. Where Orpheus failed though, Ismene has succeeded as Antiope is restored to life by placing an enchanted hummingbird in a metal box inside her chest.
This willingness to defy the gods, deny destiny and dare to gain her most precious to her is the defining character trait as a mother. The motif of the mother-warrior has deep historical roots as in Bulgaria, during the Ottoman slavery, mothers would offer their bodies to officers who were sent to their towns and villages to take second sons to be turned into janissaries. This, for the time, was deemed as the highest sacrifice a woman could perform as Bulgarian society is highly patriarchal and female purity is a highly prized virtue.
To return to the story, Ismene's sacrifices matter little as the magic that has revived her child ultimately take it back in another form.
"Then Antiope is standing at the edge of the cliff, facing the sea and the sky. Wings sprout from her back, wide, black span of feathers and sinews and bones. She throws me one last look then sets her face forward. The wings beat down, once, twice, then she is gone."
It's beautiful, haunting and utterly heartbreaking as the whole story builds up to this moment, a mother forced to watch her child transform in front of her, acknowledge how futile her tries and sacrifices ultimately are and accept the loss. Of course, this only happens after I read this loving, tender and dedicated relationship between mother and daughter.
The story feels like an emotional extension of the myth of Icarus, but in reverse. Antiope, in Icarus' role, is lost to her mother not because she flies too close to the sun and loses her wings, but because she grows wings and can no longer be human. Like Matilda in "Red Skein" , she no longer belongs to her mother and to me that is a fate worse than death.
On a side note, I find it curious how it's the father who commits suicide by jumping off the cliffs with his daughter. Suicide is usually a female's coping mechanism, whether it's grief or love or pain. Men are the ones who go at lengths to achieve their goals. Here we have a great role reversal, which echoes Davide's character arc in "Bluebeard" and further communicates the strength of women in "The Girl with No Hands and Other Tales".
—
Chances are not many have come to this point. If you have and this has been something you enjoyed, please donate to my PayPal account. I've been reviewing books for more than five years now and this project takes a lot of time and effort. Any appreciation would be grand! If you can't donate, like and share the post! Comment even.