That's what I get after spending a second looking at their variant cover for PPG #6 issued by IDW's Little line.
There is no other explanation for the cover rather than Carton Network catering to the Internet perverts to cash in on the sicker aspects of grown men idolizing characters meant for children – the way Bronies have fetishized the new incarnation My Little Pony.
Google clopping and wingboner at your own personal risk.
I still refuse to believe this cover exists as I consider Power Puff Girls to be a formative show in my childhood years. It gave me many enjoyable hours where I could finally root for female heroines who saved the girls, possessed character and was just as badass as boy heroes. That's special and I can't say I encounter many characters quite like the Power Puff Girls in cartoon shows today.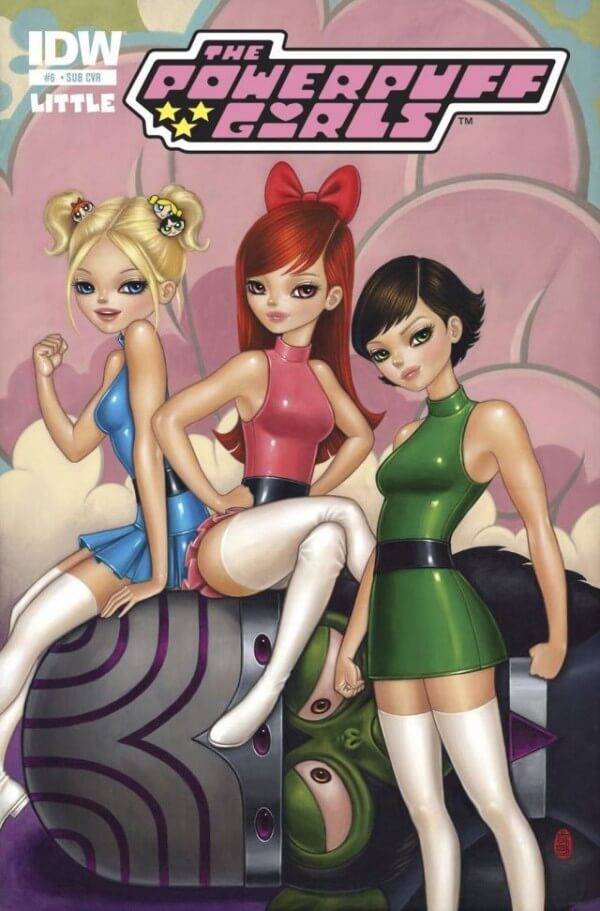 I got a very physical reaction when I saw this variant cover. What sort of process goes into the making of this decision.
Dirk Wood, IDW VP of Marketing, answers and it's abysmal:
"That was actually a Cartoon Network mandated cover, by an artist of their choosing. I think they were thinking of it more along the lines of "female empowerment" than the kind of thing you guys are talking about, but certainly, we're sensitive to the issues here."
I've been hearing a lot about this "female empowerment", but since I have a penis, I don't think I got what it's all about.
Let's review what Cartoon Network has just taught me about female empowerment.
Female empowerment means preschool girls should wear heavy makeup. Every girl should strive to look as legal as possible.
Female empowerment means preschool girls should pioneer the short-short mini skirt look. Nothing says empowered than displaying your underwear when you walk, sit, move or even breathe.
Female empowerment means preschool girls should pose like Sports Illustrated models. If you are not overtly sexual, how are you going to command attention.
I'm sad that the Power Puff Girls, a truly revolutionary cartoon with strong female characters who were the heroes rather than sidekicks, has been reduced to this. Little girls have too few role models in media as it is and to take Power Puff Girls and sexualize its heroines not only disempowers women further, but also crosses a very serious line.
This cover teaches people it's OK to view little girls in a sexual light. That's what it says.
Let me be clear. This wouldn't be as problematic or as revolting, if the story was about adult versions of the characters and the comic was sold to adults. Creepy, yes. But not bordering on child pornography.
But this comic line features the PPG in their original ages as kindergarteners and if you find this cover appealing and a non-issue, you're saying the following:
"Yes, kindergarteners are hot and I'd tap that."
This cover confirms everything that's wrong with how men perceive women. The lesson here is that the only way a man can find any female character interesting is if she is bangable.
FUCK personality, strength, wit, knowledge or perseverance.
Sexy poses brought Mojo Jojo down.
I'm bothered.
I'm angry.
I'm disgusted that this is an official, albeit an alternative, cover that will be seen by children.
And for once I would like the 'for the children' argument to be used correctly. Not to justify homophobia, where this has been the go-to argument to keep the LGBTQ community from marrying. I want it used for an actual benefit to said children, because it would be a shame to let them internalize this particular lesson.
This is the original article that sparked this rant.