It's a little known fact amongst casual readers, but the majority of published authors hold down a day-job, or are stay-at-home parents, or have some other responsibility in their life that takes a big chunk of time away from writing. This is particularly tough in a market where an author is often expected to put out at least one novel a year, regardless of how much time they have to work on it. I fit into both these categories – there's been a roughly 8-10 month gap between the scheduled releases of the three parts of my trilogy – so of course people often ask me, "How do you find time to write?".
The short answer is "I make time". When I'm hard at work on a draft, any non-vital activity is liable to fall by the wayside. This includes reading, watching TV, tidying my study, hoovering the carpets – anything that won't cause major disruption if I don't do it right now. That's not to say that I watch no TV whatsoever, but I limit myself to one or two favourite shows a week and catch up on everything else later (if at all). Like everyone I need a bit of downtime, otherwise I burn out.
It takes self-discipline, of course – it's a familiar saying that real writers don't wait for inspiration, they write whether they feel like it or not. What I've learnt over the years is that if I don't feel like writing, it's usually because there's something wrong with the story and I need to stop and think things through – because when things are going well, I find it very easy to ignore distractions. But getting to that point takes practice, in making yourself work when you don't want to and then assessing the results.
As for how to achieve that self-discipline – I recommend setting yourself targets and deadlines. That could be a number of words or chapters per day or week, or a number of short stories finished and sent out this month – whatever fits into your schedule and aims. The important thing is to be making tangible progress rather than "just writing". Small achievements soon add up, and ticking off the milestones is great for boosting your confidence!
Whilst we're on the subject of targets I want to tackle that hoary old saying "Write every day", because I strongly disagree with it. Maybe your routine doesn't give you much free time every day, but you can set aside a big chunk of hours every weekend. Should you feel bad because you're only writing two or three days a week? Hell no. The thing is, though, you have to write enough over the course of weeks and months to a) improve your craft and b) finish your stories. Whether that's in 15-minute sprints during coffee breaks a la Chuck Palahniuk, or a weekly writing binge in your local cafe, it really and truly doesn't matter as long as you put the work in. Me, I'm definitely a "binge writer" – I work best when I focus totally on a project for a few weeks and then take a break, rather than writing a fixed amount every single day of the year.
One can't talk about time management these days without tackling the biggest time sink of all: the Internet. It's a distraction for all writers, because goofing around on Twitter/Facebook/Tumblr is a lot easier than staring at that blinking cursor trying to come up with the next cool bit of your story. However if you want a career as a writer, you're going to have to learn to tame the Internet and use it, instead of letting it take over. Once you have a book out in the world (or about to come out), whether you're self-published or with a big publisher you'll be expected to have an online presence and do some degree of self-promotion. For example, writing this guest post is taking time away from working on the manuscript that's due in with my editor all too soon!
Thankfully there are a lot of handy programs that will allow you to limit your internet access for set periods, and even limit specific applications and/or websites. For example I make extensive use of the Online Etymology Dictionary when I'm editing (so that I can avoid anachronistic words in my historical-based fantasy), but I want to stay off Twitter and writing forums as that's not a productive use of my time. Use your favourite online activities as a reward for finishing the next chapter rather than letting them distract you, and you really can have your cake and eat it.
What it all comes down to is, how much do you want success? Olympic athletes get picked for their national team because they're up at 5am every day, training to be the best in the country. If you want to be a professional writer, you have to approach it with the same dedication. There's no shame in writing as a hobby, any more than there is in taking up a sport simply for personal fitness – just don't kid yourself that you can get to the Olympics by running round the park once a week.
—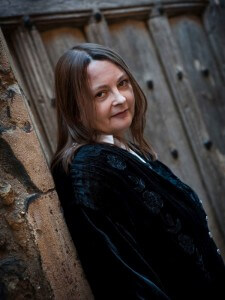 Anne Lyle was born in what is popularly known as "Robin Hood Country", and grew up fascinated by English history, folklore, and swashbuckling heroes. Unfortunately there was little demand in 1970s Nottinghamshire for diminutive swordswomen, so she studied sensible subjects like science and languages instead.
It appears, however, that although you can take the girl out of Sherwood Forest, you can't take Sherwood Forest out of the girl. She now spends practically every spare hour writing – or at least planning – fantasy fiction about dashing swordsmen and scheming spies, set in imaginary pasts or parallel worlds.
Her particular obsession is Elizabethan England, so it helps that she now lives in a city full of medieval and Tudor buildings where the cattle browse on the common land much as they did in Shakespeare's London. She prides herself on being able to ride a horse, sew a sampler and cut a quill pen but hasn't the least idea how to drive one of those new-fangled automobile thingies.
Paradoxically she is a big fan of 21st century technology, being a Mac geek and full-time web developer. Well, it's the nearest thing you can get to magic in our own universe…
You can find Anne at her website, on Facebook and on Twitter. Her first book, The Alchemist of Souls, is available in bookshops and online, in print, e-formats and audio. Also, the second book in the Night's Masque series, The Merchant of Dreams, is out now as well. Go hunt it down.