It's been quiet on the news front as I'm focused on surviving this winter and novel rewrites, but what I can share with you all is that Upside Down: Inverted Tropes in Storytelling is going to hit shelves next week. This anthology contains my fairy tale take on damsels in distress and evil sorceresses being evil for the sake of being evil, "Her Curse, How Gently It Comes Undone."
Remember December 13th!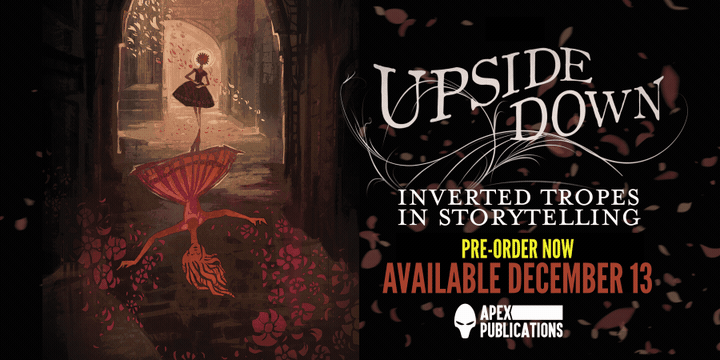 Here's a reminder what you can expect in the anthology:
Over two dozen authors, ranging from NYT-bestsellers and award winners to debut writers, chose a tired trope or cliche to challenge and surprise readers through their work.

Read stories inspired by tropes such as the Chainmaille Bikini, Love at First Sight, Damsels in Distress, Yellow Peril, The Black Man Dies First, The Villain Had a Crappy Childhood, The Singularity Will Cause the Apocalypse, and many more… Then, discover what these tropes mean to each author to find out what inspired them.

Join Maurice Broaddus, Adam Troy-Castro, Delilah S. Dawson, Shanna Germain, Sara M. Harvey, John Hornor Jacobs, Rahul Kanakia, Alethea Kontis, Valya Dudycz Lupescu, Haralambi Markov, Kat Richardson, Nisi Shawl, Ferrett Steinmetz, Anton Strout, Michael Underwood, Alyssa Wong and many other authors as they take well-worn tropes and cliches and flip them upside down.