I've been sitting on this news for a little while, but I've signed the contract and I can make the big reveal – "The Language of Knives" will disturb readers in Italian.
Samuel Marolla of Acheron Books has acquired the Italian rights for this little story and in the near future you'll see new cover art. "The Language of Knives" is to be sold as a standalone in a digital format as part of a short story line Acheron Books is putting out.
"The Language of Knives" has garnered some amazing reviews over the months since its release in February:
Quick Sip Reviews calls it 'a beautiful story and wonderfully told'; K. Tempest Bradford featured it in her Best Stories of the Week column and Cecily Kane at the Skiffy and Fanty Show says it's a 'rendering of complex emotions that feels very true.' You can also add it on Goodreads.
Most recently, "The Language of Knives" has been reprinted in The Apex Book of World SF 4, which has been getting great reviews, too.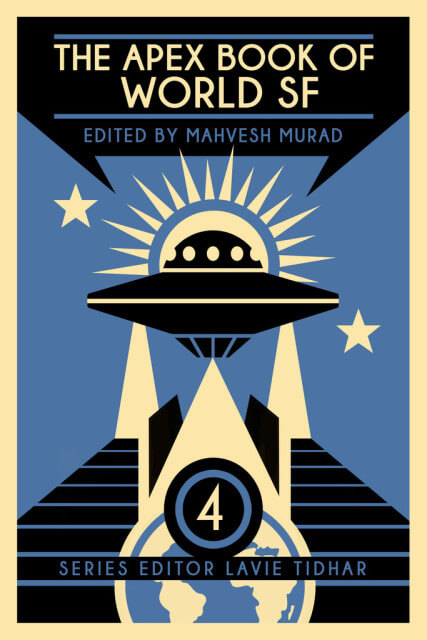 I'm very proud to be among these writers and you should definitely order the book!
From Spanish steampunk and Italian horror to Nigerian science fiction and subverted Japanese folktales, from love in the time of drones to teenagers at the end of the world, the stories in this volume showcase the best of contemporary speculative fiction, wherever it's written.

Cover art and design by Sarah Anne Langton.

"Important to the future of not only international authors, but the entire SF community."
—Strange Horizons

"The Apex Book of World SF series is an excellent primer for any sci-fi reader trying to understand the field's global reach." —The Guardian

Featuring:
• Vajra Chandrasekera (Sri Lanka) — "Pockets Full of Stones"
• Yukimi Ogawa (Japan) — "In Her Head, In Her Eyes"
• Zen Cho (Malaysia) — "The Four Generations of Chang E"
• Shimon Adaf (Israel) — "Like a Coin Entrusted in Faith" (Translated by the author)
• Celeste Rita Baker (Virgin Islands) — "Single Entry"
• Nene Ormes (Sweden) — "The Good Matter" (Translated by Lisa J Isaksson and Nene Ormes)
• JY Yang (Singapore) — "Tiger Baby"
• Isabel Yap (Philippines) — "A Cup of Salt Tears"
• Usman T Malik (Pakistan) — "The Vaporization Enthalpy of a Peculiar Pakistani Family"
• Kuzhali Manickavel (India) — "Six Things We Found During the Autopsy"
• Elana Gomel (Israel) — "The Farm"
• Haralambi Markov (Bulgaria) — "The Language of Knives"
• Sabrina Huang (Taiwan) — "Setting Up Home" (Translated by Jeremy Tiang)
• Sathya Stone (Sri Lanka) — "Jinki and the Paradox"
• Johann Thorsson (Iceland) — "First, Bite a Finger"
• Dilman Dila (Uganda) — "How My Father Became a God"
• Swabir Silayi (Kenya) — "Colour Me Grey"
• Deepak Unnikrishnan (The Emirates) — "Sarama"
• Chinelo Onwualu (Nigeria) — "The Gift of Touch"
• Saad Z. Hossain (Bangaldesh) — "Djinns Live by the Sea"
• Bernardo Fernández (Mexico) — "The Last Hours of the Final Days" (Translated by the author)
• Natalia Theodoridou (Greece) — "The Eleven Holy Numbers of the Mechanical Soul"
• Samuel Marolla (Italy) — "Black Tea" (Translated by Andrew Tanzi)
• Julie Novakova (Czech Republic) — "The Symphony of Ice and Dust"
• Thomas Olde Heuvelt (Netherlands) — "The Boy Who Cast No Shadow" (Translated by Laura Vroomen)
• Sese Yane (Kenya) — "The Corpse"
• Tang Fei — "Pepe" (Translated by John Chu)
• Rocío Rincón (Spain) — "The Lady of the Soler Colony" (Translated by James and Marian Womack)